Hyundai Tucson: Power Liftgate / Emergency Liftgate Safety Release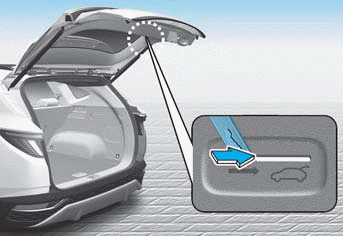 To unlock and open the liftgate manually from inside the cargo area, perform the following:
1. Insert a long, flat object, such as a key into the opening at the bottom of the liftgate.
2. Slide the latch in the direction of the arrow to unlock the liftgate.
3. Push the liftgate open.
WARNING
Never allow anyone to occupy the cargo area of the vehicle at any time. The cargo area is a very dangerous location in the event of a collision because it is part of the vehicle's crush zone.
Use the release lever for emergencies only.