Hyundai Tucson: Manual Climate Control System / System Maintenance
Air Conditioning Performance and Maintenance at Your HYUNDAI Dealer
If the amount of refrigerant is too low or too high, the performance of the air conditioning is reduced. Have the system be inspected by an authorized HYUNDAI dealer.
NOTICE
The refrigerant system should only be serviced by trained and certified technicians in a well-ventilated area to ensure proper and safe operation.
Never repair the air conditioning evaporator (cooling coil) or replace with the one removed from a used or salvaged vehicle. A new replacement evaporator must be certified (and labeled) as meeting SAE Standard J2842.
WARNING


To prevent serious injury, have the air conditioning system be serviced by only trained and certified technicians. R-1234yf is flammable and operated at high pressure.
Reclaim all refrigerants with proper equipment. Venting refrigerants directly to the atmosphere is harmful to individuals and environment.
Air conditioning refrigerant label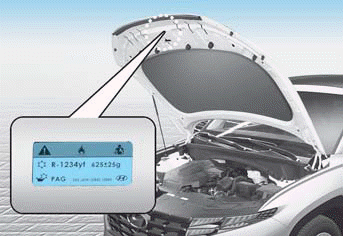 You can find out which air conditioning refrigerant is applied to your vehicle on the label located inside of the hood.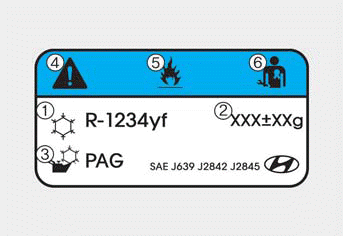 Example
Each symbol and specification on the air conditioning refrigerant label is represented as the following:
1 Classification of refrigerant
2 Amount of refrigerant
3 Classification of compressor lubricant
4 Caution
5 Flammable refrigerant
6 To require registered technician to
service air conditioning system