Hyundai Tucson: Seat Belts / Seat Belt Restraint System
WARNING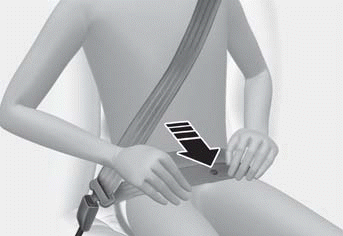 Improperly positioned seat belts may increase the risk of serious injury in an accident. Take the following precautions when adjusting the seat belt:
Position the lap portion of the seat belt as low as possible across your hips, not on your waist, so that it fits snugly. This allows your strong pelvic bones to absorb the force of a collision, reducing the chance of internal injuries.
Position one arm under the shoulder belt and the other over the belt, as shown in the illustration.
Always position the shoulder belt anchor into the locked position at an appropriate height.
Never position the shoulder belt across your neck or face.