Hyundai Tucson: Seat Belt Restraint System / Pretensioner seat belt (for driver and front passenger seat)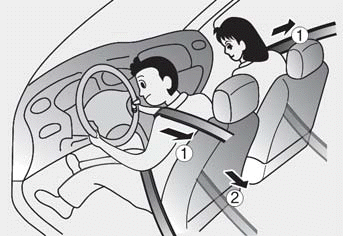 1: Retractor pretensioner,
2: Emergency fastening device (for driver's seat only)
Your vehicle is equipped with driver's Pretensioner seat belts (Retractor Pretensioner and Emergency Fastening Device System). The pretensioner makes sure the driver's and front passenger's seat belt fits tightly against your body in certain frontal or side collision(s). The Emergency Fastening Device System may be activated in some collisions where the frontal collision(s) is severe enough, together with the airbags.
When the vehicle stops suddenly, or if you try to lean forward too quickly, the seat belt retractor locks in place. In some frontal collisions, the pretensioner activates and pulls the seat belt against your body.
WARNING
To prevent serious injury or death:
Always wear your seat belt and sit properly in your seat.
Do not use the seat belt if it is loose or twisted.
Do not place anything near the buckle.
Always replace your pretensioner after activation or an accident.
Have the pretensioner inspected, serviced, repaired, or replaced by only an authorized HYUNDAI dealer.
Do not hit seat belt assemblies.
WARNING
Do not touch the pretensioner seat belt assemblies for several minutes after they have been activated. When the pretensioner seat belt mechanism deploys during a collision, the pretensioner can become hot and can burn you.
WARNING
Have the system serviced by an authorized HYUNDAI dealer. Body work on the front of the vehicle may damage the pretensioner seat belt system.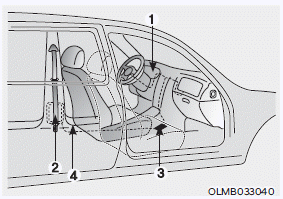 The Pre-Tensioner Seat Belt System consists mainly of the following components. Their locations are shown in the illustration above:
1 SRS airbag warning light 2 Retractor pretensioner 3 SRS control module 4 Emergency fastening device
The sensor that activates the SRS control module is connected with the pretensioner seat belt. The SRS airbag warning light on the instrument cluster illuminates for about 3-6 seconds after the ignition switch is in the ON position, and then it turns off.
If the pretensioner is not working properly, the warning light illuminates even if the SRS airbag is not malfunctioning. If the warning light does not illuminate when starting the engine or stays illuminated or illuminates while driving, have the pretensioner seat belts and/or SRS control module inspected by an authorized HYUNDAI dealer as soon as possible.
Information
The pretensioner seat belt system may be activated in certain frontal or side collisions or rollover situations.
When the pretensioner seat belts are activated, a loud noise may be heard and fine dust, which may appear to be smoke, may be visible in the passenger compartment.
Although it is non-toxic, the fine dust may cause skin irritation and should not be inhaled for prolonged periods. Wash all exposed skin areas thoroughly after an accident in which the pre-tensioner seat belts were activated.