Hyundai Tucson: Seat Belt Restraint System / Driver's Seat Belt – 3-point system with emergency locking retractor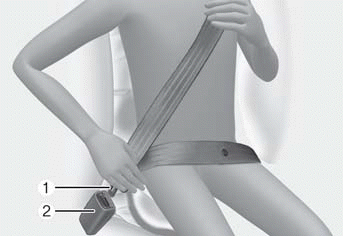 To fasten your seat belt:
Pull belt out of the retractor and insert the metal tab 1 into the buckle 2. An audible "click" sounds when the tab locks into the buckle. Make sure the seat belt is not twisted.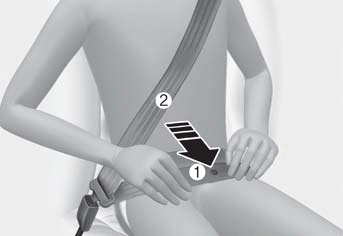 Place the lap belt 1 portion across your hips and the shoulder belt 2 portion across your chest.
The seat belt automatically adjusts to the proper length after the lap belt portion is adjusted manually so that it fits snugly around your hips. If you lean forward in a slow, easy motion, the belt extends and moves with you.
If there is a sudden stop or collision, the belt is locked in place. It also locks if you try to lean forward too quickly.
Information
If you cannot smoothly pull the seat belt out from the retractor, firmly pull the seat belt out and release it. After release, the belt may be pulled out smoothly.
Height adjustment
Adjust the height of the shoulder belt so that it lies across your chest and midway over your shoulder nearest the door, not over your neck.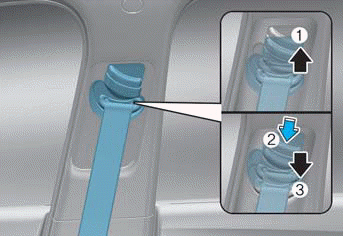 To adjust the height of the seat belt anchor:
Pull it up 1 to raise the height. To lower it, push it down 3 while pressing the height adjuster button 2.
Release the button to lock the anchor in place. Try pushing the height adjuster down to make sure that it is locked in place.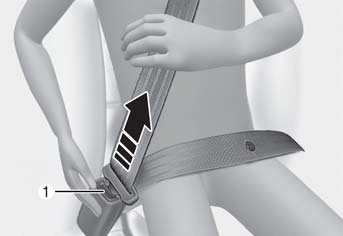 To release your seat belt:
Press the release button 1 in the locking buckle.
The belt should automatically draw back into the retractor. If this does not happen, check the belt is not twisted, then try again.