Hyundai Tucson: Gauges and Meters / Outside temperature gauge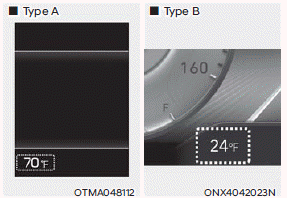 The outside ambient temperature appears in the lower portion of the cluster display. The temperature reads in Fahrenheit or Celsius depending on the units selected from the Settings menu in the instrument cluster or infotainment system.
The temperature indicated on the cluster display may not change as quickly as the outside temperature.
Select:
User Settings > Units > Temperature Unit > °F/°C (for cluster type)
Setup > General > Units > Temperature Unit > °F/°C (for infotainment system type)
Both the temperature unit on the cluster display and climate control information screen is changed.
Information
The infotainment system may change after software updates. For more information, refer to the user's manual provided in the infotainment system and the quick reference guide.