Hyundai Tucson: Steering Wheel / Horn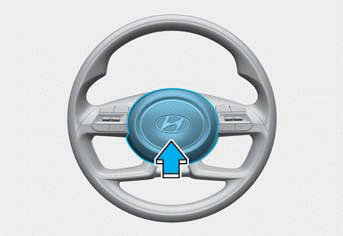 To sound the horn, press the area indicated by the horn symbol on your steering wheel (see illustration). The horn operates only when this area is pressed.
NOTICE
Do not strike the horn severely or hit it with your fist. Do not press on the horn with a sharp-pointed object.
NOTICE
Do not clean the steering wheel surface with the following products:
- Organic solvents such as thinner, alcohol and gasoline
- Chemical products such as leather cleaner, coating agent, and wax