Hyundai Tucson: Driver Attention Warning (DAW) / Driver Attention Warning Operation
Basic function
The Driver Attention Warning informs you of the "Attention Level" and when to "Consider taking a break".
Attention level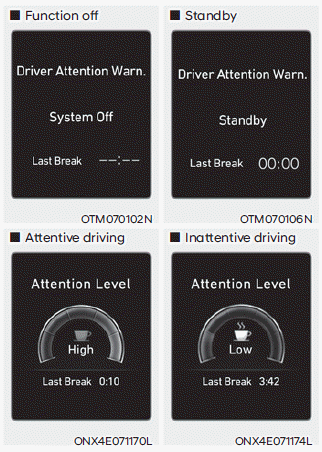 The driver's attention level appears on a scale of 1 to 5. The lower the level, the sooner you must take a break.
Driver Attention Warning operates when your vehicle speed is 0-120 mph (0-200 km/h).
Information
When the Inattentive Driving Warning is deselected from the Settings menu, "System Off" appears.
When vehicle speed is not within the operating speed, the message "Standby" appears.
Taking a break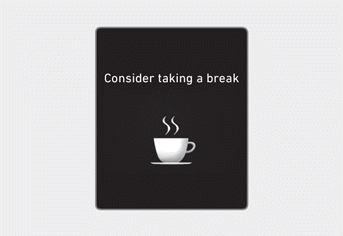 The "Consider taking a break" message may appear on the instrument cluster and an audible warning may sound, when the attention level is below 1.
Driver Attention Warning does not suggest a break if the total driving time is less than 10 minutes or 10 minutes has not passed since the last break was suggested.
WARNING
Only change the settings after parking your vehicle at a safe location.
CAUTION
Driver Attention Warning may suggest a break depending on your driving pattern or habit, even if you do not feel fatigued.
Driver Attention Warning is a supplemental function only and does not determine if you are paying attention to the driving task.
If you feel fatigued or want to take a break, do so as needed at a safe location.
Information
The status of the Driver Attention Warning appears in Driving Assist mode on the instrument cluster. Refer to the "View Modes" section in Chapter 4.
Driver Attention Warning resets the last break time to 00:00 when:
- The engine is turned off.
- The driver's seat belt is unfastened, and the driver's door is opened.
- The vehicle is stopped for more than 10 minutes.
Leading Vehicle Departure Alert function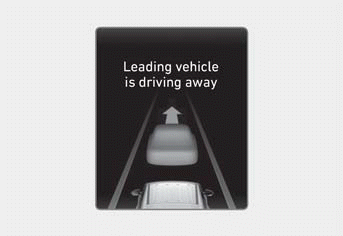 Departure Alert displays the "Leading vehicle is driving away" message on the instrument cluster and an audible warning sounds.
WARNING
When other system's warning message appears or audible warning is heard, Leading Vehicle Departure Alert may not alert you.
Always check road conditions, and if necessary, take appropriate actions to drive safely. It is your responsibility to operate your vehicle in a safe manner.
CAUTION
Leading Vehicle Departure Alert is a supplemental function and may not alert you whenever the front vehicle departs from a stop.
Always check if it is safe to proceed before driving even if the function alerts you that the front vehicle has departed.
Information
The images and colors in the instrument cluster may differ depending on the cluster type or theme selected from the settings menu.