Hyundai Tucson: Smart Cruise Control Operation / To increase speed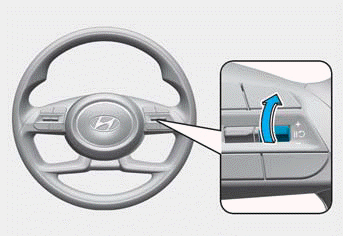 Push the + switch up and release it immediately to increase the cruising speed by 1 mph (1 km/h).
Push and hold the + switch up to increase to the nearest multiple of 5 mph (or multiple of 10 km/h) at first, and then increase by an additional 5 mph (10 km/h) each time.
The vehicle speed can be set to a maximum of 110 mph (100 km/h).
WARNING
Your vehicle speed may rapidly increase when you push and hold the + switch.