Hyundai Tucson: Remote Key / Replacing the battery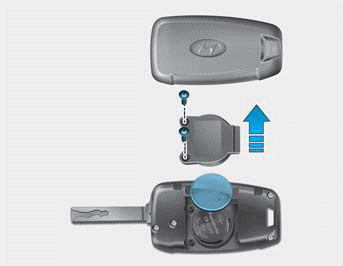 Battery type: CR2032
To replace the battery:
1. Insert a slim tool into the slot and gently open the cover.
2. Remove the old battery and insert a new one. Make sure the battery position is correct.
3. Reinstall the rear cover of the remote key.
If you suspect your remote key might have sustained some damage or you feel your remote key is not working correctly, contact an authorized HYUNDAI dealer.
WARNING
This product contains a button battery. If swallowed, a lithium button battery can cause severe or fatal injuries within 2 hours. Keep batteries out of reach of children.
If you think batteries may have been swallowed or placed inside any part of the body, seek immediate medical attention.
Information
Always dispose batteries in accordance with local laws and regulations.