Hyundai Tucson: Convenience Features / Rear Occupant Alert (ROA)
Rear Occupant Alert is provided to prevent the driver from leaving with any rear passenger left in the vehicle.
Rear Occupant Alert Settings
To use Rear Occupant Alert, it can be enabled from the Settings menu in the instrument cluster or infotainment system.
Select:
User Settings > Convenience > Rear Occupant Alert (for cluster type)
Setup > Vehicle > Convenience > Rear Occupant Alert (for infotainment system type)
Rear Occupant Alert Operations
When you turn off the engine and open the driver's door after opening and closing the rear door or liftgate, the "Check rear seats" warning message appears on the instrument cluster.
After the first alert, the second alert operates when any movement is detected in the vehicle after the driver's door is closed and all the doors are locked. The horn sounds for approximately 25 seconds. If the system continues to detect a movement, the alert operates up to 8 times. Unlock the doors with the smart key to stop the alert.
The system detects movement in the vehicle for 8 hours after the door is locked.
Information
The second alert is available for vehicles equipped with the ROA sensor.
If you do not want to use Rear Occupant Alert, press the OK button on the steering wheel when the first alert appears and the second alert is deactivated once.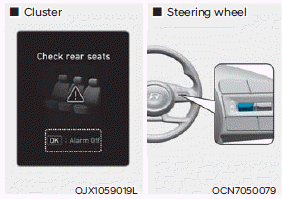 If the vehicle is started remotely (if equipped with Remote Start), the interior movement detection stops.