Hyundai Tucson: Interior Features / Power Outlet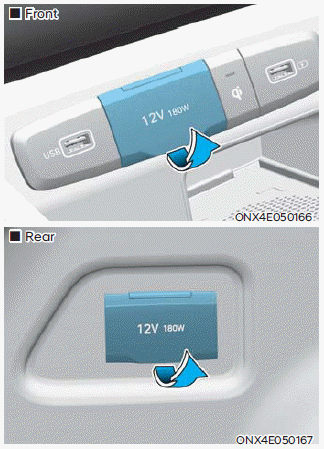 The power outlet is designed to provide power for mobile phones or other devices designed to operate with vehicle electrical systems. The devices should draw less than 180 watts with the engine running.
WARNING
Avoid electrical shocks. Do not place your fingers or foreign objects (pin, etc.) into a power outlet or touch the power outlet with a wet hand.
NOTICE
To prevent damage to the power outlets:
Use the power outlet only when the engine is running and remove the accessory plug after use. Using the accessory plug for an extended period of time with the engine off may cause the battery to discharge.
Only use 12 volts electric accessories that are less than 180 watts in the electric capacity.
Adjust the air conditioner or heater to the lowest operating level when using the power outlet.
Close the cover when not used.
Some electronic devices may cause electronic interference when plugged into a vehicle's power outlet.
Push the plug in as far as it goes. The plug may overheat and the fuse may open.
Only connect devices with reverse current protection or the current from the device battery may cause the vehicle's electrical/electronic system to malfunction.