Hyundai Tucson: Hyundai Digital Key / Personalized profile and vehicle settings
You can set the registered digital key profiles for Driver 1 and Driver 2. When you use the digital card key or the Hyundai Digital Key app, the vehicle can be set to the user-defined personalized profile (includes items such as driver settings and audio preferences).
Linking/Unlinking profile
Profile link
1. Select Setup > User Profile > Profile Settings > Link Digital Key (Smartphone) in the infotainment system menu.
2. Unlock your smartphone and place it on the vehicle authentication pad (wireless charging pad).
3. Select Link to connect the registered phone's digital key and the user's profile.
Profile unlink
Select Digital Key Information from the infotainment system Settings menu to unlink a profile.
Information
If you connect both Driver 1 and Driver 2 with a single smartphone, the digital key (smartphone key) always uses the profile settings for Driver 1. If you unlink Driver 1, the Driver 2 profile settings are used.
Precautions for using the vehicle profile link and unlink
Be aware:
Profile link can be used with the digital key. (Infotainment system: Setup > Vehicle > Digital Key > Enable Digital Keys)
Profile link information remains even when the digital key function is disabled.
Only the smartphone with the Hyundai Digital Key app can be linked to your profile, not the card key.
Profile link works only when the smartphone and the digital key are registered to the vehicle.
Do not remove the smartphone from the vehicle authentication pad (wireless charging pad) until the profile is linked.
Driver Profile operation
The profile linked with the digital key locks or unlocks the doors when:
The profile linked smartphone touches the driver's door handle.
Hyundai Digital Key app is used on a profile linked smartphone.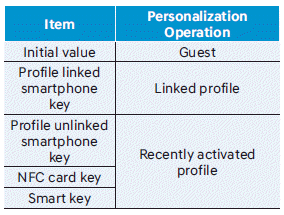 Vehicle personalization with digital key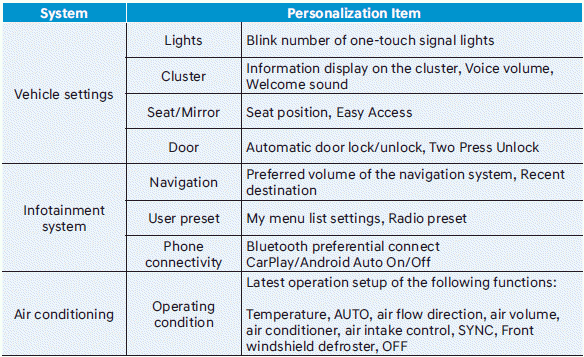 For more information, refer to the infotainment system manual.
Information
Do not leave your digital key (smartphone key or card key) in the vehicle after locking or unlocking the doors or starting the vehicle. The doors can be locked using the switches on the driver's or the passenger's doors. Always take your digital key (smartphone key or card key) when leaving the vehicle.