Hyundai Tucson: Hyundai Digital Key / How to Save/Delete the Digital Key (Card Key)
Saving Digital Key (Card Key)
1. Turn on the vehicle with the smart key and be sure to keep the smart key inside the vehicle during digital key registration.
2. Install the Hyundai Digital Key app on your smartphone and set up the digital key.
3. Using the Pair Card Key menu in the app, activate the Card Key registration mode.
- NFC authentication: Enter the NFC authentication menu and touch your smartphone to the outside door handle.
- Bluetooth authentication: Enter the Bluetooth authentication menu and press the OK button.
Information
If you activate the registration mode, complete the card key saving process within 5 minutes.
If you have not registered the digital key (card key), register the digital key (card key) with two smart keys.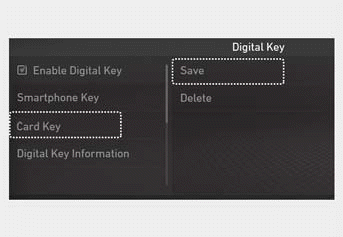 4. Register the digital key (card key) in the infotainment system. From the Settings menu, go to Setup > Vehicle > Digital Key > Card Key and then select Save.
Information
The Save button is disabled if the digital key (card key) is already saved.
If you need to save a new digital key (card key), delete the previous digital key (card key) using "Deleting Digital key (Card key)" procedure in this chapter.
5. Place the digital key (card key) on the vehicle authentication pad (wireless charging pad). The process begins automatically.
If successful, a message appears on the infotainment system screen or instrument cluster.
Once a digital key (card key) has been registered, it cannot be used with another vehicle.