Hyundai Tucson: Convenience Features / Hood
Opening the Hood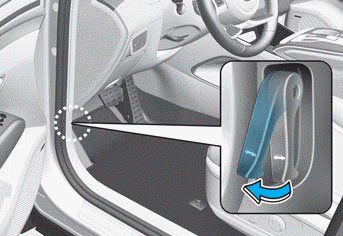 1. Park the vehicle and apply the parking brake.
2. Pull the release lever to unlatch the hood. The hood pops open slightly.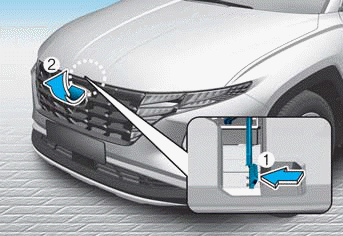 3. Go to the front of the vehicle, raise the hood slightly, push up the secondary latch 1 inside of the hood center and lift the hood 2.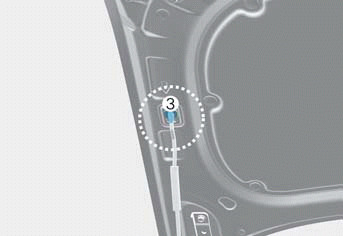 4. Lift the hood support rod.
5. Insert the end of the hood support rod into the slot located on the hood 3.
WARNING
Grasp the hood support rod in the area wrapped in rubber when the engine is hot to protect you from burn or injury.
Make sure that the end of the hood support rod is inserted fully into the hood slot to prevent the hood from falling.
Closing the Hood
1. Before closing the hood, check in and around the engine compartment to ensure the following:
- Any tools or other loose objects have been removed.
- All glove, rags, or other combustible material have been removed.
- All filler caps are tightly and correctly installed.
2. Return the hood support rod to its stored location.
3. Lower the hood until it is about 12 inches (30 cm) above the closed position and then let it drop.
4. Check the hood has locked properly. If the hood is raised slightly, open it again and drop it from a little higher. Check again.
WARNING
Before closing the hood, ensure all obstructions are removed from around the hood opening.
Always double check to make sure that the hood is firmly latched before driving away. Check there is no hood open warning light or message displayed on the instrument cluster. Driving with the hood open may cause a total loss of visibility, resulting in a collision.
Do not move the vehicle with the hood raised. It may block your vision and may result in a collision.