Hyundai Tucson: Convenience Features / Liftgate
Opening the Liftgate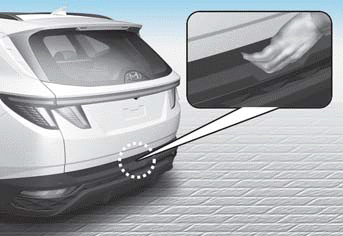 Make sure the vehicle is in P (Park) and apply the parking brake.
- Unlock all doors with the Door Unlock button on your remote key or smart key. Press the liftgate handle button and open the liftgate.
- Press and hold the Liftgate Open button on the remote key or smart key.
Closing the Liftgate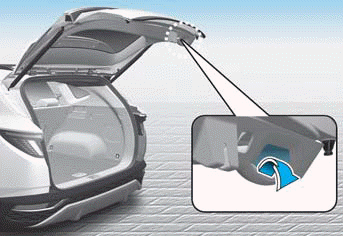 Lower the liftgate lid and press down until it locks. Always check it is secure by pulling on the handle.
WARNING
Always keep the liftgate closed while the vehicle is in moving. If it is left open or ajar, poisonous exhaust gases containing carbon monoxide (CO) may enter the vehicle and serious injury or death may result.
Information
Liftgate lock and the liftgate may not work if frozen shut due to moisture and freezing conditions.
WARNING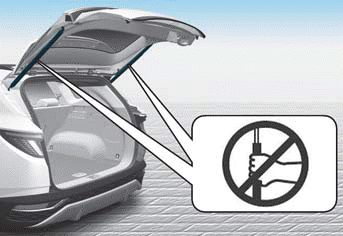 Always close the liftgate before driving. Do not grab or hold on to the liftgate support struts or they may be damaged. Deformation of the liftgate support struts may result in vehicle damage and personal injury.
WARNING
Never allow anyone to occupy the cargo area of the vehicle at any time. If the liftgate is partially or totally latched and the person cannot get out, serious injury or death may occur due to lack of ventilation, exhaust fumes, and rapid heat build-up, or due to exposure to cold weather conditions. The cargo area is also a very dangerous location in the event of a collision because it is part of the vehicle's crush zone.