Hyundai Tucson: Inside Rearview Mirror / Electrochromic mirror with Homelink System
Your vehicle may be equipped with a Gentex Automatic-Dimming Mirror with an Integrated HomeLink® Wireless Control System.
During nighttime driving, this feature automatically detects and reduces the rearview mirror's glare. The HomeLink® Universal Transceiver allows you to activate your garage door(s), electric gate, home lighting, etc.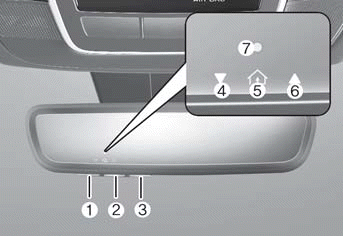 1 HomeLink Channel 1
2 HomeLink Channel 2
3 HomeLink Channel 3
4 Garage Door Opener Status Indicator: Closing or Closed
5 HomeLink Operation Indicator
6 Garage Door Opener Status Indicator: Opening or Opened
7 HomeLink User Interface Indicator
Integrated HomeLink® Wireless Control System
The HomeLink® Wireless Control System provides a convenient way to replace up to three hand held radio-frequency transmitters used to activate compatible devices such as gate operators, garage door openers, entry door locks, security systems, and home lighting.
NOTICE
HomeLink® only operates while the ignition switch is in the ACC or ON position to prevent unintentional security issues when the vehicle is parked outside the garage.
WARNING
Before programming HomeLink® to a garage door opener or gate operator, make sure people and objects are out of the way of the device to prevent potential harm or damage. Do not use the HomeLink® with any garage door opener that lacks the safety stop and reverse features required by U.S. federal safety standards (this includes any garage door opener model manufactured before April 1, 1982). A garage door that cannot detect an object - signaling the door to stop and reverse - does not meet current U.S. federal safety standards. Using a garage door opener without these features increases the risk of serious injury or death.
For more information, contact HomeLink® at www.homelink.com, or call Home-Link customer support at 1-800-355-3515.
1. Programming HomeLink®
The following steps show how to program HomeLink. If you have any questions or are having difficulty programming your HomeLink buttons, refer to the HomeLink website or call the HomeLink customer support toll-free number.
Visit the HomeLink website at: www. homelink.com or scan the QR code. Then at the top of the page, choose your vehicle make. Then watch the You Tube video, and/or access additional website information.

Or call HomeLink customer support at 1-800-355-3515 (Have the vehicle make/model and the opener device make/model readily available.)
1) Programming Preparation
1. When programming a garage door opener, park the vehicle outside of the garage.
2. Place a new battery in the handheld transmitter of the device being programmed to HomeLink for quicker training and accurate transmission of the radiofrequency signal.
3. Place the ignition switch to the ACC position for programming of HomeLink.
2) Programming a New HomeLink®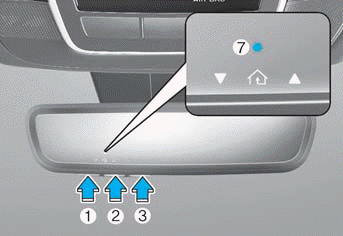 1. Press and release the HomeLink button 1, 2 or 3, for programming. The HomeLink indicator light 7 flashes orange slowly (if not, perform the steps of the "Erasing HomeLink Buttons" section, and start over).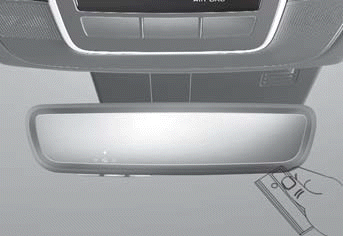 2. Position the garage door opener remote 1-3 inches (2-8 cm) away from the HomeLink buttons.
3. While the HomeLink indicator light