Hyundai Tucson: Climate Control Additional Features / Auto Defogging System on Models with Automatic Temperature Control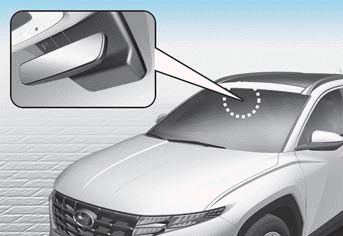 Auto defogging reduces the likelihood of fogging up the inside of the windshield by sensing moisture on the inside of the windshield.
The auto defogging system operates when the heater or air conditioning is on.
Information
The Auto Defogging system may not operate normally, when the outside temperature is below 14 °F (-10 °C).

When the Auto Defogging System operates, the indicator illuminates.
If high amount of humidity is detected in the vehicle, the Auto Defogging system is enabled.
The following steps are performed automatically:
Step 1) Air conditioning turns on and Fresh mode is selected.
Step 2) Defrost-level is selected.
Step 3) Fan speed is set to MAX.
If the air conditioning is off or recirculation mode is manually selected while Auto Defogging system is ON, the Auto Defogging system indicator will blink 3 times to signal that manual operation has been canceled.
Turning the Auto Defogging System ON or OFF
Climate control system
Press the front windshield defroster button for 3 seconds when the ignition switch is in the ON position. When the Auto Defogging system is turned off, the ADS OFF symbol blinks 3 times and "ADS OFF" appears on the climate control information screen.
When the Auto Defogging system is turned on, the ADS OFF symbol blinks 6 times without a signal.
Infotainment system
Auto Defogging system can be turned on and off by selecting Setup > Vehicle > Climate > Defog/Defrost Options > Auto Defog from the Settings menu.
Information
Do not select recirculated air while the Auto defogging system is operating.
When Auto Defogging system is operating, fan speed adjustment, temperature adjustment, and air intake control selection are all disabled.
NOTICE
Do not remove the sensor cover located on the top of the windshield glass. Damage may not be covered by your vehicle warranty.