Hyundai Tucson: Interior Features / Wireless Smartphone Charging System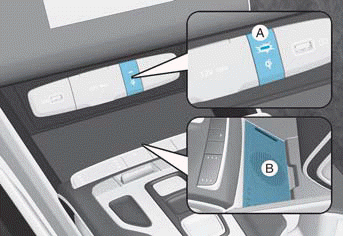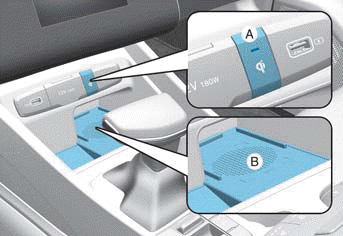 A : Indicator light, B : Charging pad
Charging your smartphone
The wireless smartphone charging system charges only Qi-enabled smartphones (

). Visit your smartphone manufacturer's website to check whether your smartphone supports the Qi technology.
The wireless charging process starts when you put a Qi-enabled smartphone on the wireless charging unit with the screen facing up.
1. The wireless smartphone charger is available when all doors are closed, and when the ignition switch is in the ON or START position.
2. Turn on the wireless charging function from the Settings menu in the instrument cluster or infotainment system.
Select:
- User Settings > Convenience > Wireless Charging System (for cluster type)
- Setup > Vehicle > Convenience > Wireless Charging System (for infotainment system type)
3. Place the smartphone on the center of the wireless charging pad. The indicator light is orange when the smartphone is charging and turns blue when phone charging is complete.
Information
Remove other items, including the smart key and the card key from the wireless charging pad.
If your smartphone is not charging:
- Move the smartphone on the charging pad.
- Make sure the indicator light is orange.
The indicator light blinks orange for 10 seconds if there is a malfunction in the wireless charging system.
The system warns you with a message on the cluster display if the smartphone is still on the wireless charging unit after the vehicle is turned OFF and the front door is opened.
Information
The wireless smartphone charging system may not support smartphones that do not meet the Qi specification ().
Wireless charging may stop temporarily when the smart key is used, or when starting the vehicle or locking/unlocking the doors.
When charging certain smartphones, the charging indicator may not change to blue when the smartphone is fully charged.
The wireless charging process may temporarily stop, when the temperature abnormally increases inside the wireless smartphone charging system. The wireless charging process does not restart, until the temperature falls.
The wireless charging process may stop when there is any metallic item, such as coin, between the wireless smartphone pad and smartphone.
For some manufacturer's smartphones, the system may not warn you even though the smartphone is left on the wireless charging unit. This is due to the particular characteristic of the smartphone and not a malfunction of the wireless charging.
When charging some smartphones with a self-protection feature, the wireless charging speed may decrease and the wireless charging may stop.
If the smartphone has a thick case, it may not charge.
Some magnetic items such as credit cards, phone cards, or transit cards may be damaged if left with the smartphone during the charging process.
When any smartphone without a wireless charging function or a metallic object is placed on the charging pad, a small noise may sound because the vehicle discerns compatibility of the object placed on the charging pad. It does not affect your vehicle or the smartphone.
If the ignition switch is OFF, the charging stops.