Hyundai Tucson: Gauges and Meters / Engine coolant temperature gauge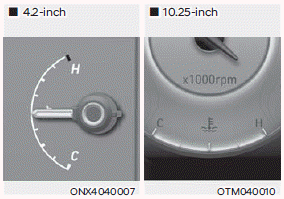 This gauge indicates the temperature of the engine coolant when the ignition switch is in the ON position.
NOTICE
If the gauge pointer moves beyond the normal range area toward the H (Hot) position, it indicates the engine coolant is overheating.
Do not continue driving with an overheated engine. If your vehicle overheats, refer to the "If the Engine Overheats" section in Chapter 8.
WARNING
Never remove the engine coolant reservoir cap when the engine is hot. The engine coolant is under pressure and may cause burn or injury. Always use a rag.