Hyundai Tucson: Windows / Power Windows
The ignition switch must be in the ON position to be able to raise or lower the windows. Each door has a Power Window switch to control the door's window. The driver has a Power Window Lock button that can block the operation of rear passenger windows. The power windows will operate for about 3 minutes after the ignition is turned OFF or if the ignition is placed in the ACC position, as long as the front doors remain closed.
If the front doors are opened, the battery power is turned OFF and the Power Windows do not operate.
Window opening and closing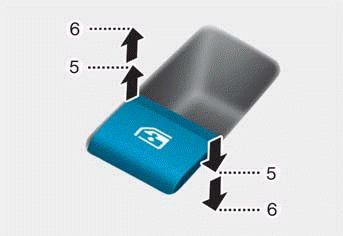 To open:
Press the window switch down to the first detent position