Hyundai Tucson: Automatic Transmission / Paddle Shifter (Manual shift mode)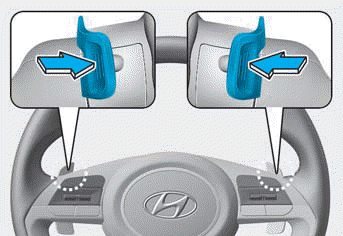 The paddle shifter is available when the shift button is in the D (Drive) position.
With the shift button in the D position
The paddle shifter operates when the vehicle speed is more than 6 mph (10 km/h).
Pull the [+] or [-] paddle shifter once to shift up or down one gear and the system changes from automatic mode to manual shift mode.
To change back to automatic shift mode from manual shift mode, do one of the followings:
- Pull the [+] paddle shifter for more than one second.
- Press the D button.
The manual shift mode also changes back to automatic shift mode if:
- The accelerator pedal is gently depressed for more than 6 seconds while driving or the vehicle stops.
Information
If the [+] and [-] paddle shifters are pulled at the same time, gear shift may not occur.