Hyundai Tucson: Maintenance / Brake Fluid
Checking the Brake Fluid Level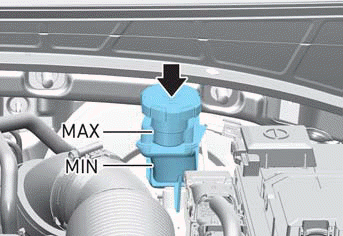 Check the fluid level in the reservoir periodically. The fluid level must be between the MAX and the MIN marks on the side of the reservoir.
Before removing the reservoir cap and adding brake fluid, clean the area around the reservoir cap thoroughly to prevent brake fluid contamination.
If the level is low, add the specified brake fluid to the MAX level. If the fluid level is excessively low or frequent additions are required, have the brake system inspected by an authorized HYUNDAI dealer.
WARNING
If brake fluid comes in contact with your eyes, flush your eyes with clean water for at least 15 minutes and get immediate medical attention.
NOTICE
Do not allow brake fluid to contact the vehicle's body paint, because paint damage may occur.
Never use brake fluid that has been exposed to open air for an extended time and dispose of it properly.
Do not use the wrong type of brake fluid. A few drops of mineral based oil such as engine oil in your brake system may damage the brake system parts.
Information
Use only the brake fluid specified in the "Recommended Lubricants and Capacities" section in Chapter 10.